Hello GWRWT Members

We were saddened to learn that one of our long time members, Mae Potton, had recently passed away.

For the past number of years, Mae had been a lifetime member, and,  while she could no longer attend events, had remained very interested in news of Guelph Wellington Retired Women Teachers. Lynda Gilham was Mae's Joy Partner and her visits were very much anticipated and enjoyed by Mae .

Please take a minute to read the obituary of a very remarkable woman and a cherished member of GWRWT.
POTTON, Ella Margaret 'Mae'
A lifelong resident of Guelph passed away peacefully in her sleep on Wednesday March 1, 2023, in her 98th year.  Mae is pre-deceased by her parents, Ernest, and Jennie.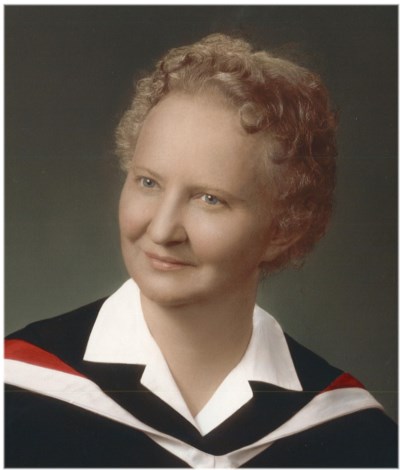 Mae was a born teacher and loved helping her students.  In 1948 at Paisley Road Public School, at the time, one of only two teachers working at the school, the seconded being her friend and fellow teacher Margaret Stinson.  Mae worked at a few schools, she retired from teaching in 1984 from Victory School.  One of her favourite memories at Victory was the School Junior Choir that she conducted. They included both English and French students singing English and French songs including O Canada.  Many of her students kept in touch with her over the years. Jean Little wrote a short story about our teacher Mae in one of her books.
Mae was a long-time member of Paisley Memorial United church until it closed.  She finally found a new home in Dublin United Church.  From a young woman in her 20's to late in her 80's Mae would visit members from the church that were unable to attend the service. She would give them the bulletin from the service and flowers. At Christmas time she would give them a small jar of homemade currant jelly made by her from the currants that grew in her backyard.  She was well known at the hospital and at many of the long-term care for her visiting the residents.  In her early 90's she would go to the some of the homes and play the piano for the church services when needed.  Mae will be remembered fondly by the residents at the homes for her birthday parties which including treats from West End Bakery.
Mae was very well known for her calligraphy.  Right up till about few months ago she was still making birthday and holiday cards with handwritten messages.  Many people have told the family the still have and cherish their cards.
The family of Mae would like to thank the Caregivers from Peace of Mind Care for their loving concerns and willingness to help Mae and be there holding her hand through these last few years.  A thanks to Dr. Spadafora and Nurse Katrina from Bayshore.
Celebration of Life for Mae will be held at a future date. Arrangements entrusted to the WALL-CUSTANCE FUNERAL HOME & CHAPEL 519-822-0051 / www.wallcustance.com.
In lieu of flowers, memorial contributions can be made to the Alzheimer Society of Canada or the Guelph General Hospital Foundation.
---